The following are railroad related domain names registered by NordiLusta, LLC hosted at TrainWeb. For most of the below web sites that are currently operational, content has been provided by and is managed by APRHF volunteers.
Key:
CP = Cash Parking at GoDaddy.com
FD = Forwarded Domain
NL = Hosted on NordiLusta.net Web Server
NM = Hosted on NMP.net Web Server
PD = Parked Domain Name (No Content Yet)
PS = Pending Setup
TN = Hosted on TrainWeb.net Web Server
TO = Hosted on TrainWeb.org Web Server
TW = Hosted on TrainWeb.com Web Server
WP = Hosted on WordPress Web Server
ZZ = Hosted on Other Web Server
?? = Hosted on Unknown Web Server or Pending Hosting
Key Word TrainWeb.net Web Sites:
Click on the below images to visit our rail magazine promotion trading partners:

(Click here to add your print rail magazine.)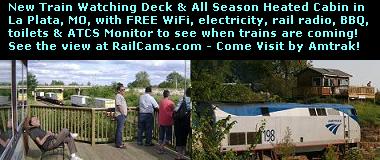 Click below for pages in the directory of TrainWeb sites:
Why this ad?